DALLAS EXECUTIVE AIRPORT | FACILITY OVERVIEW
Fully Equipped & Accessible
Dallas Executive Airport (RBD) is owned by the City of Dallas and operated by the Department of Aviation, which also operates Love Field and the Downtown Heliport. The 1040-acre general aviation facility, fenced, gated and digitally monitored, is located just 10 miles south of downtown Dallas with easy access to major thoroughfares inclusive of I-20, I-30, I-35E, I-45, US-67 and Loop 12.
Fully equipped with an air traffic control tower, a full instrument landing system, all of the necessary aeronautical lighting, airport markings and air navigation radio aids, Executive Airport provides accessibility even under adverse weather conditions. Two full-service fixed based operators provide a range of amenities including meeting rooms, pilot lounge areas and sleeping quarters, car rentals, fuel maintenance, hangar rentals, and charters.
The airport's terminal building has a full-service restaurant and administrative offices. The business conference center features a large briefing room as well as breakout room–available for use by airport guests and tenants.
State of the art amenities and infrastructure provide first-class service to corporate and business segments of general aviation. With prime land ready for development, Dallas Executive Airport also provides excellent growth opportunities for both aeronautical and industrial development.
To view Rules and Regulations and KRBD minimum standards, click here:
Convenient & Accessible
Ten (10) minutes to downtown Dallas
Easy access to I-20, I-30, I-35E, I-45, US-67 and Loop 12
Near the International Inland Port of Dallas (IIPOD)
Terminal Building Features:
Full service restaurant with aircraft and special events catering available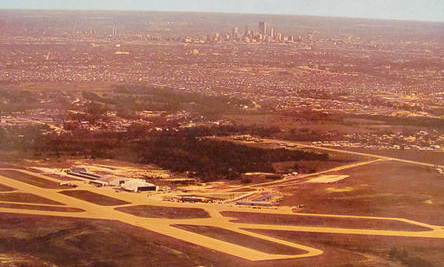 History
Located just 6.5 miles from the Dallas central business district, the airport has undergone several major expansions since it was built in 1945, with the latest improvement effort completed in late 2005. Since 2002, the City has invested $12 million in capital improvements to the airport and secure an additional $13 million in private investment.